Our Wallet Platform allows users to issue Wallet passes to themselves or others. Our platform grants our clients access to link their own ERP or third-party gift card system, membership passes, employment cards, and loyalty memberships. In addition, we offer guidance and assistance with implementing our programs. Please reach out for additional information regarding our Wallet Platform features and how to get started.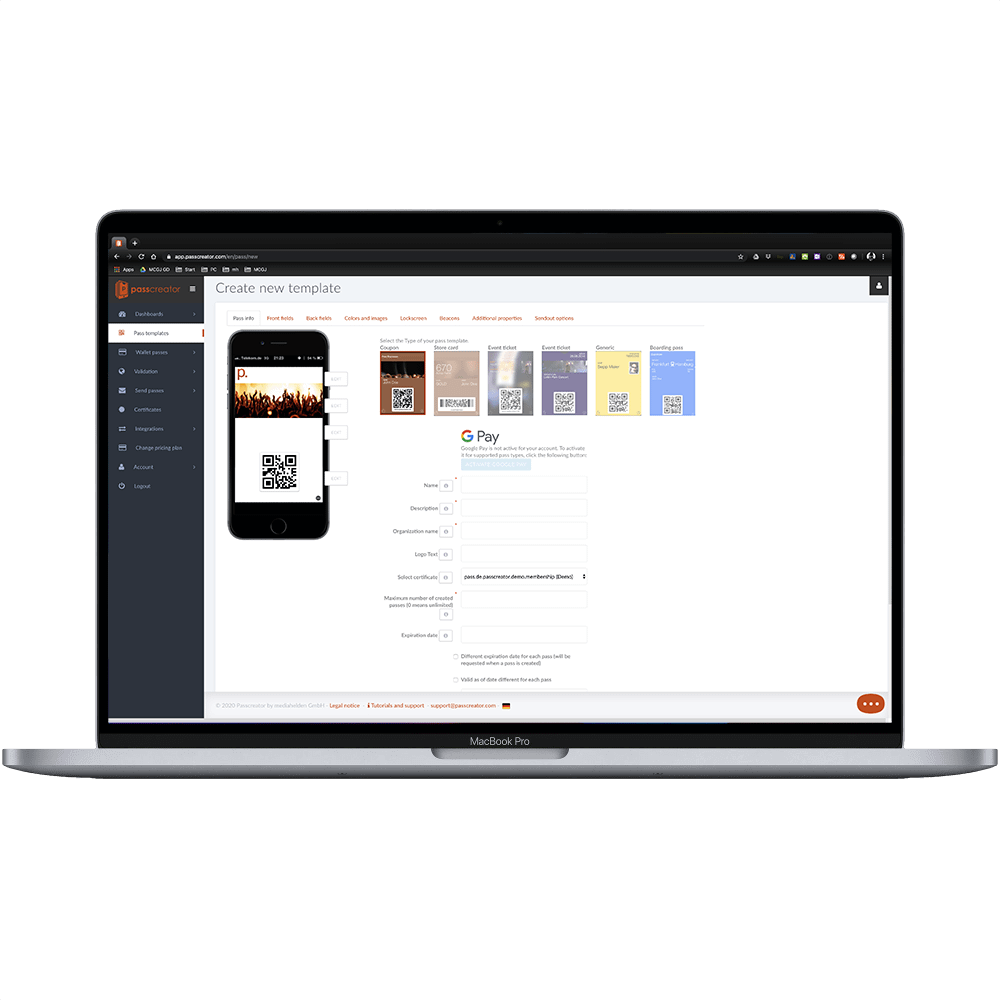 Interactive store cards. Renewing coupons. Up to date event tickets. Valuable bonus cards. Smart ID-cards. Individual membership cards. VIP status pass. Personalised service cards and a lot more.
Latest information is always at your customer's fingertips. Every Wallet pass can be changed or updated after it's saved on your user's smartphone.
You can control anything: images, texts and the pass type. Notify your customers with Push Notifications on the lock screen about new offers or establish a new way of communication with your customers using personalized links.
Wallet passes are a direct marketing channel.
By adding GPS coordinates to your passes or connecting iBeacons, your Wallet pass is shown on the lock screen as soon as your customer reaches a given time or location. The pass can be shown directly from the lock screen. You can add a custom message for the notification and even change it after the pass has been saved using Push Updates.
Location- and time-based notifications are a valuable feature for the user and the issuer of a pass.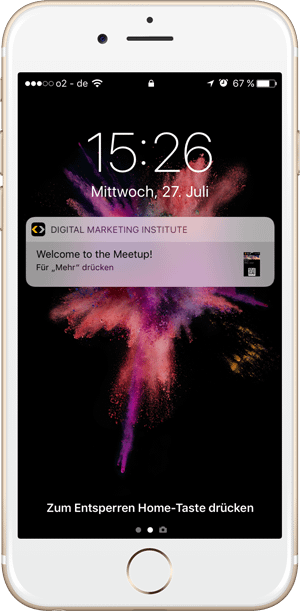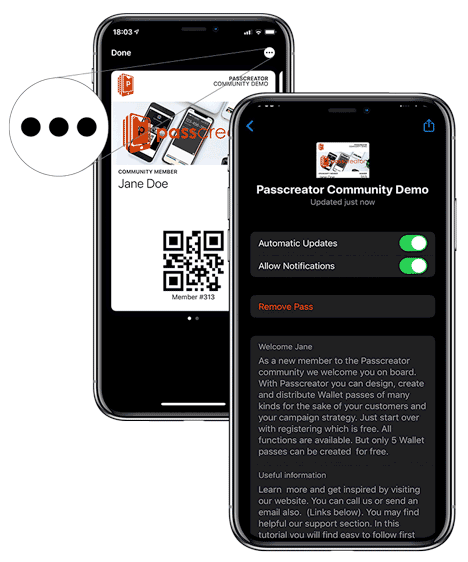 On iOS and Android there is more on the back of each pass!
Just tap on the three dots!
The backside provides room for more detailed information that helps your customers or provides enhanced functionality.
You can integrate also add links to point to any website, phone number or email.
Hand out Wallet passes easily
The distribution of Wallet passes is very convenient and effective.
You can choose the best way to distribute Wallet passes to your customers according to your business.
All possibilities described below can be used directly via Gift to Wallet or via integrations.
The distribution of Wallet passes via email is simple and fast. The email contains information and a link to the Wallet pass. Gift to Wallet automatically detects the operating system of the recipient's smartphone and offers to download the Wallet pass.
Certain applications allow the use of NFC (Near Field Communication) for contactless transfer or validation of Wallet passes. NFC makes handling Wallet passes even more attractive because it is much more convenient.
Distribution via SMS is in certain cases the best way to distribute Wallet passes. This is the case, for example, when SMS is the established way to communicate.
Every Wallet pass that is created with Passcreator has its own unique URL. When shared on social media we make sure that it looks great by showing your logo and a description you can define. We support all major networks.
The distribution of Wallet passes via ads allows you to give your customers something they can use at the Point of sale. In this way, advertisements become even more effective by handing out vouchers and closing the gap between online and offline.
With landing pages that are part of Passcreator your customers you can host your own simple sign-up forms. Landing pages can be used to sell passes as well and offer a variety of payment features.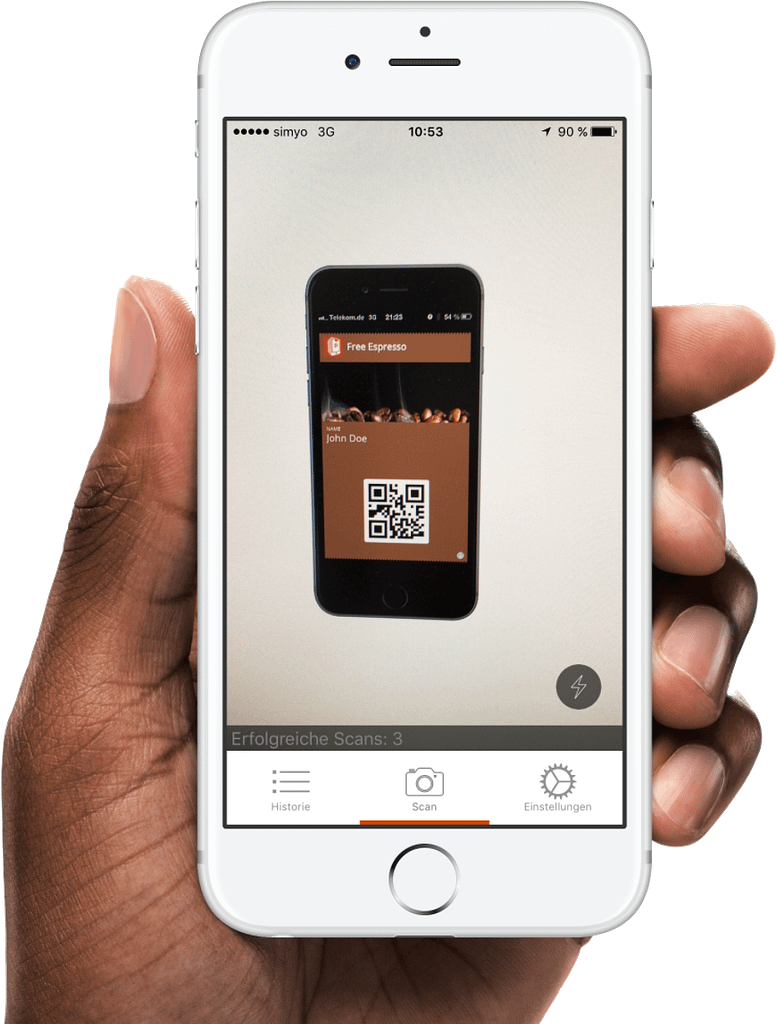 Validate Wallet passes on location
Wallet passes can be validated either by QR code or by NFC.
You can use different tools for this: The Gift to Wallet Companion app, NFC readers or other scanners.
You can download the app on the iOS App Store and on the Play Store for Android for free.
If you already use your own readers or scanners, reach out to us and we'll find a way to integrate it. If you don't have your own hardware yet, we can help you getting started.
Integration to existing systems
Using our extensive API you can build anything you have in mind! You can develop the integration with your system exactly as you need it! Using the API you can create, update and delete passes. You can also check the validity of passes and a lot more.
To see all features, please check out our developer documentation.
Using Zapier you can connect over 1000 of the most popular online services. For example: Salesforce, Microsoft Dynamics CRM, MailChimp, Formstack Magento and a lot more are available. Gift to Wallet has also created an app for Zapier that allows you to create your own integration with all services available on Zapier. E.g. you can create a store card for every contact that is being added to your CRM system or send a Coupon via MailChimp as soon as someone completes the checkout in your online store.
Start with connecting your applications using the Gift to Wallet app on Zapier.
At Leikbreytir, we strive to reduce our environmental impact wherever possible. Gift to Wallet benefits the environment by reducing the sale and inevitable disposal of plastic gift cards. You can complete our gift card transactions entirely electronically, producing zero waste. We also offer businesses the option to sell physical gift cards created from paper instead of plastic to reduce the environmental impact.
Additionally, we issue our electronic gift cards on Apple Wallet and Google Wallet for ease of use for your customers. We also partner with an alternative app to support circumstances where Apple Wallet and Google Wallet are not available. A key feature of Apple Wallet and Google Wallet is the capability of sending a push notification to the customer depending on their GPS location. This service can be a helpful reminder when customers are in the range of a gift card-eligible place. These apps also allow businesses to send general notifications to remind customers of their gift cards or specific reminders regarding an upcoming expiration date or remaining funds.